As the green building industry moves into 2022, HVAC will continue to play a critical role in its success. New efficiency standards will be put in place in 2023, making it more important than ever for builders to invest in high-grade filters and mechanical ventilation. These measures will help ensure that green buildings remain affordable and sustainable into the future.
One of the main challenges for green builders in 2022 will be meeting new efficiency standards. HVAC systems account for a large percentage of a building's energy usage, so it is essential that they are properly calibrated and maintained. In this article, we'll discuss the new efficiency standards, talk about how high-grade filters won't break the budget, and how mechanical ventilation can save green builders.
New Efficiency Standards
One of the most important roles HVAC will play in green buildings in 2022 is meeting new efficiency standards. The Department of Energy (DOE) has set a goal that all new buildings will be net-zero energy by 2030. This means that the HVAC system in a green building must not only be efficient but also able to create energy through things like solar panels or wind turbines. But let's focus on what's coming up in 2023.
2015 was the last time the DOE adjusted energy efficiency standards. They have recently rolled out new standards that go into effect in 2023. Air conditioners in the North will increase from SEER 13 to 14. In the South, SEER moves from 14 to 15. Nationwide, the heat pumps' minimum efficiency has to increase from SEER 14 to 15.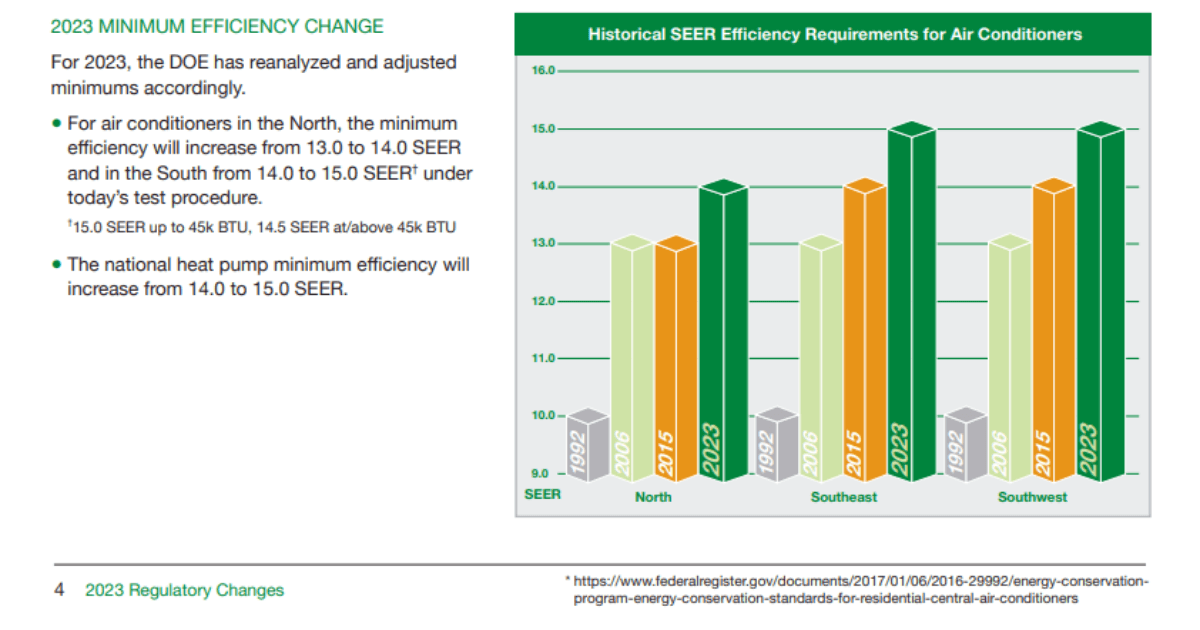 Let's break it down by the numbers:
7-8% increase in SEER from current minimums
Roughly 70% of current HVAC products will not meet new efficiency standards
To meet new requirements, all HVAC products must be retested and validated
Fortunately, meeting these new standards will not require a large investment. You can do this without breaking the bank by installing high-grade filters and mechanical ventilation. In fact, many green builders are already taking advantage of these solutions.
How High-Grade Filters Won't Break the Budget
One of the main concerns of building owners and managers is the cost of upgrading HVAC systems. In many cases, the fear of increased costs leads to a reluctance to invest in energy-saving measures. However, this does not have to be the case. One benefit to using high-grade HVAC filters is that they can be installed into an existing HVAC system with no retrofitting. This means that building owners and managers do not have to invest in a new system in order to improve efficiency.
High-grade HVAC filters are an affordable way to make an HVAC system more efficient. They capture dust, pollen, and smoke from the air. They also capture bacteria and viruses, making them ideal for use in healthcare facilities and schools. Through monitoring and replacing dirty or clogged air filters, you can increase the system's efficiency by 5-15% while keeping the indoor air clean and healthy.
How Mechanical Ventilation Can Save Green Builders
Mechanical ventilation is another way to make an HVAC green building system more efficient. This technology uses a fan to draw fresh air into a building and expel stale air. This reduces the need for extra fans The ways it can save green builders is three-fold:
Helps off-gas new construction materials in HVAC green buildings

Improves IAQ by removing particulates that cause allergies and asthma for occupants

Reduces heating energy costs, and provides a more balanced heat distribution to the indoor space
One of the benefits of mechanical ventilation is that it helps to control humidity levels. Humidity, and the process of removing it from our indoor air, uses lots of energy. In climates with high humidity, excess moisture can cause problems like mold and mildew. Mechanical ventilation can also help to remove pollutants from the air, making the HVAC system more efficient. Like filters, they are easy to install into an existing HVAC system. This makes it a cost-effective way to improve efficiency without having to invest in a new system.
Suggested Reading: We all know the importance of ventilation in buildings but when it comes to mechanical systems, but many builders may not be aware of their benefits. Learn about three types of mechanical ventilation solutions available, and how to sell this solution to builders using a risk-management approach ➡
The Role of HVAC in Green Buildings
As the DOE sets new efficiency standards, HVAC in green buildings will play an increasingly important role. High-grade HVAC filters and mechanical ventilation are two solutions that can help building owners and managers meet these standards without breaking the bank. These technologies are affordable, easy to install, and used in any climate. In conclusion, green builders looking for ways to meet new standards must keep high-grade HVAC filters and mechanical ventilation in mind.