If you want to leverage the power of search engines to draw more customers to your business' website, SEM is how you accomplish this.
This is looking at every part of the search results page and developing a strategy to be everywhere. SEO represents one portion of this, but search results are much more dynamic than they used to be. As an HVAC service business, you have unique opportunities that a lot of businesses do not.
Some of the positions available are paid advertisements. So it's important to understand at least the very basics of Google's ad program.

Understand the Results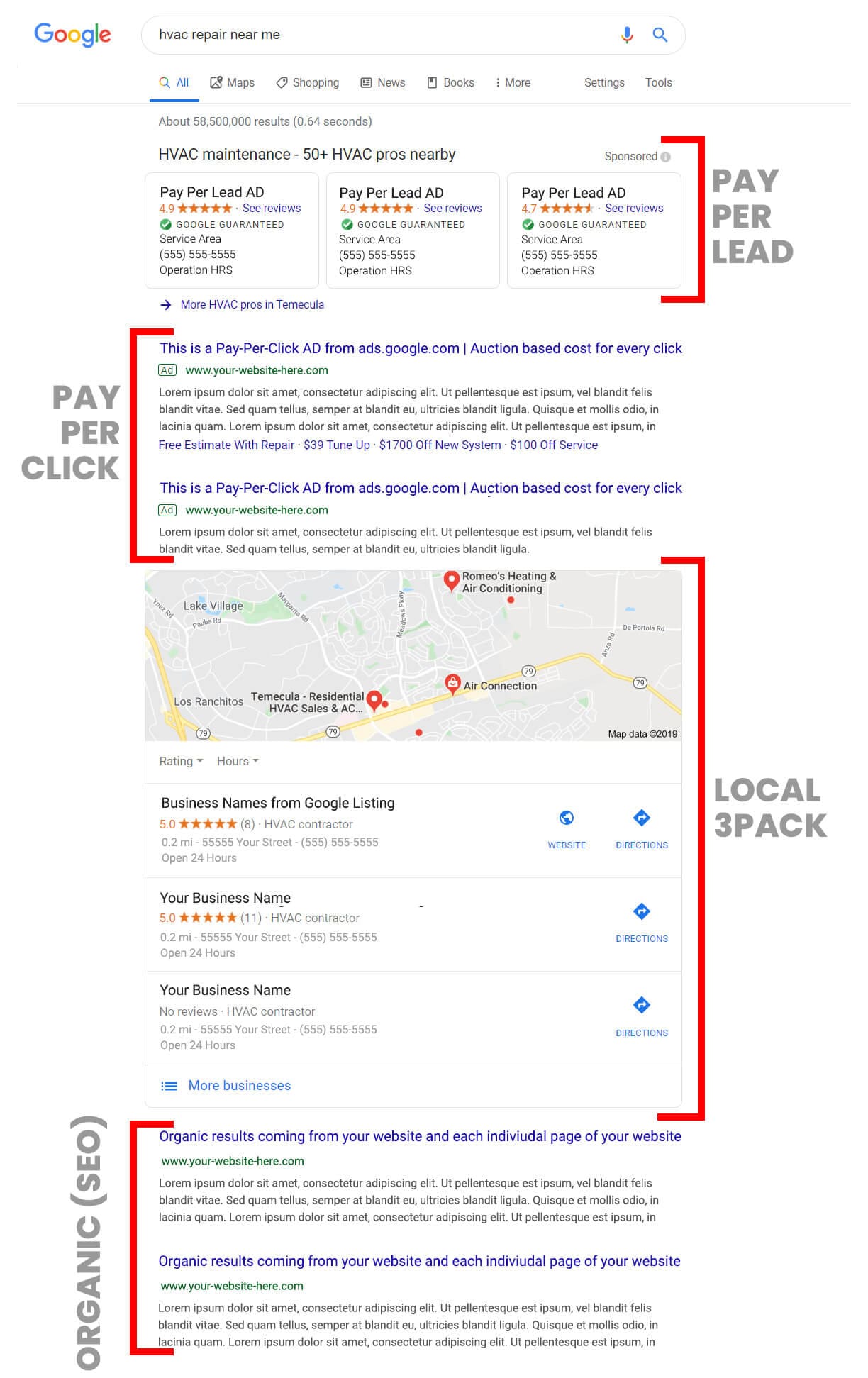 Pay-Per-Lead (PPL)
This is a fantastic program from Google and it might not yet be available in your area. With this program, you only pay per lead generated; phone call, or message.
Pay-Per-Click (PPC)
PPC ads are an auction-based method of buying digital ads on a pay-per-click basis. You submit keywords and key phrases and set the price you are willing to pay per click.

This type of advertising is only recommended if you're confident in your website's ability to generate leads. Now, it can also be used to generate phone calls, but mostly you'll website traffic. From there it's up to your website to convince the user to schedule an appointment or contact you.
Local 3-Pack
This information comes from Google maps and Google My Business (GMB). There is a lot that can be done here and it's a very valuable position for a local service business. There are only 3 spots available which makes the competition pretty stiff.
Organic Results (SEO)
The organic results are the basic or normal search engine results. These are controlled by your SEO.
Hopefully this helps to illustrate the importance of search engine marketing for your HVAC business. Only thinking about one area, like SEO, is a great way to limit your opportunities.
If you try to tackle this on own, make sure to thoroughly research everything before getting started. Although you can't really "hurt" your business, you can waste a lot of time and money.
Even organic results have some extra details
AMP Pages
AMP stands for Accelerated Mobile Pages and was developed so landing pages load faster on mobile Google searches, resulting in decreased bounce rates, increased traffic, a higher conversion rate, and enhanced SEO.
The pages are optimized for mobile devices by simplifying the design elements, adjusting the formatting, and removing select features that slow download times. On average, AMP landing pages load 85% higher than your standard mobile web page would because it reduces the clutter.
It's completely free to use. And because it's a Google product, there's a good chance your AMP page will be a top result search option on mobile devices. They also get their own carousel in mobile searches on Google.
Rich Snippets
When someone uses Google to search for something, a list of results will pop up. You'll notice the title of the page in blue, the URL in green, and a snippet, aka description, of what the page is about.
A rich snippet will look much different because it has extra information, like an image, ratings, and a detailed description. This helps you stand out, resulting in more clicks, and over time, a higher search ranking.
How do I get rich snippets? Structured data. By structuring the data, you set up your content in a particular way so search engines understand it and pull that information to the search results page.