Sales is a crucial part of the HVAC industry and market. Whether your work is from the perspective of a manufacturer, distributor, rep or as a contractor–sales is certainly a factor, regardless. With so many different aspects of the industry involved in the sales process, how could there ever be a one-stop-shop formula for good HVAC sales habits and practices? The answer is simply an increased focus on quality conversation and connection.
RepTalk Guest: Steve Yastrow
This episode of RepTalk features helpful tips and insight from interview guest Steve Yastrow, in conversation with Host Rob Ambrosetti. Yastrow has years of experience as a business advisor and is the Founder and CEO of Yastrow and Company. He is also a renowned author with three published business books: "Brand Harmony," "We: The Ideal Customer Relationship" and "Ditch the Pitch." The latter, his most recent publication, focuses on six helpful sales habits to utilize in business.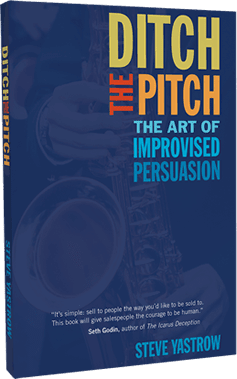 Helpful HVAC Sales Habits
The six habits all revolve around the idea of improvised persuasion. As Yastrow explains, he suggests to quite literally ditch the pitch and instead converse with clients and potential customers rather than present to them. As most of us can relate, no one really enjoys being at the other end of a sales pitch. The best way to make the experience better, and gain from it, is to create a conversation that matters.
Yastrow breaks down the six helpful HVAC sales habits into three categories. They are:
Figure out what's going on
Get the conversation flowing
Creating a shared story
Within each category are two habits, and within each habit are a handful of helpful business practices to help implement the habit. The goal of these HVAC sales habits is to shift the sales process. Rather than the focus being on your business, products, services and offerings … to instead focus on the specific customer. This means saying less, listening and noticing more, interpreting the verbal and non-verbal information available and making honest helpful suggestions that clearly identify that client's specific needs. As Yastrow explains in this episode, it's your job to step into their story rather than making them enter yours/your business' story.
Setting Your Business Up For Success
At first glance, these may seem like obvious actions to take. However, with further research, it becomes apparent that most HVAC companies and contractors are still focusing on themselves and their business over the customer's values and needs. Ambrosetti and Yastrow discuss applicable and actionable examples throughout the episode. From listening to a customer talk about their child's allergies to noticing an expensive guitar collection, honing in on these small opportunities will set you apart from your competition.

After delving into each of the six HVAC sales habits, Yastrow and Ambrosetti discuss applying these practices to the remote sales and distanced customer service reality, as well as how to implement the habits for better personalized company branding. For everyone in the trade, this episode is sure to provide beneficial HVAC sales habits, tips and insight.