As an HVAC contractor, you likely understand the general concepts of marketing, but might not consider yourself well-versed. And that's okay! Consequently, you might not exactly understand what inbound marketing is in particular. In this article, we'll break down exactly what HVAC inbound marketing is and how it can benefit your business.
What Is HVAC Inbound Marketing?
At its core, inbound marketing is a series of strategies designed to help your company get in front of potential customers. Essentially, your business makes contact with these potential customers via content marketing, articles, events, SEO and social media posts. All of these elements are created with a focus on providing value to existing and potential customers alike. As a result, that value earns your business visibility, more awareness, networking and relationships and lead generation.
What Challenges Can Inbound Marketing Solve For Your HVAC Company?
Most HVAC companies struggle to devise strategies that increase company awareness, brand preference and leads. Lastly, many are concerned about wasting resources on marketing. Here's how HVAC inbound marketing addresses these challenges.
Business Awareness
Before customers buy anything, a vast majority starts with an online search. If you create content that addresses their query, there's a good chance your article will show up at the top of the search results. Also, if your business is active on social media platforms and creates engaging content, your target audience will inevitably discover you. Producing good content for your blog and social media, on a consistent basis, works.
A big part of inbound marketing is showing your audience how your business can solve a problem that they have.

This builds trust, which builds a relationship, which ultimately leads to action. pic.twitter.com/hlea0NfA7K

— Meticulosity (@Meticulosity) July 8, 2021
Business Preference
Good content educates, entertains, informs and inspires people to do what you want–organically. When you position yourself as the expert in HVAC, you build trust with the audience. This trust makes them follow your social media channels, share your content, tag their friends and more. You become their preferred source of information.
Lead Generation
To clarify, it's important to understand that inbound marketing is a long-term strategy. Think of each bit of content as bits of snow rolling down a mountain. As you create more content consistently, these bits of snow become a snowball, picking up speed and growing in size. For example, content marketing (writing blog posts or articles) takes roughly six to nine months to start seeing incoming organic leads.
Wasting Time and Money on Marketing
If you've tried inbound marketing before and felt that it didn't work, understand that blogs and social media posts do work for HVAC companies. Sadly, the truth is, your previous content likely wasn't good enough or engaging. The market decides what ends up on the first page of Google search engine results and what social posts receive high engagement. Study the market to see what works and what doesn't. Lastly, create content that is thoughtful and brings value to the person reading or watching.
What's the Expected ROI of an HVAC Inbound Marketing Strategy?
The return on investment, or ROI, for a poor inbound marketing strategy is zero. However, according to Invespro, the ROI for a good strategy will provide your business with:
Three times more leads per dollar spent in comparison to Ads
Approximately $14 in savings on customer acquisition costs
Double average site conversion rates, from 6% to 12%
The average cost to generate a lead through inbound marketing ($143) is about half the average for outbound marketing ($373).

— TidySurveys.com (@TidySurveys) July 3, 2021
Steps To Create Your HVAC Inbound Marketing Plan
Follow this easy series of steps to create your very own inbound marketing plan. As an example for this plan, the steps revolve around seasonal spring allergies and the solutions to keep indoor air allergy-free.
1. Identify Your Customer
First, take the time to think about who your likely customers are, what they want, their problems and how you can provide solutions. For example, if the community you service has an uptick in pollen during the spring season, focus your content on allergies during that period. Then, create content that resonates with them. And finally, explain the solutions that exist to keep allergens out of their indoor space.
2. Set Your Objectives
Next, you'll want to set specific goals for your HVAC inbound marketing plan. Explicitly write out what you want to achieve using the SMART methodology developed by HubSpot. Basically, you want your objectives to be specific, measurable, attainable, relevant and timely. An example for an objective could be: To generate revenue by installing 100 MERV-13 air filters in 100 days via content marketing.
Also take a look at how your website is currently doing in terms of traffic, lead generation and bounce rates. These stats are your benchmark starting points to improve upon. These are just a few key performance indicators (KPIs) to measure the success of your objectives. Other ideas on KPIs to track and measure include:
Number of unique site visitors
Number of returning visitors
Clicks on call-to-actions
Amount lead forms were submitted
Sources of site traffic – whether via social media channel, articles, landing pages, etc.
3. Identify Customer Triggers
Think about the air quality events and indoor pollution pain points that cause customers to seek out your HVAC or IAQ services. In this case, it's allergies because of the high outdoor pollen levels. With this in mind, produce content around this topic and gear it toward what filtration or purification solutions can do to help.
4. Keyword and Keyphrase Research
Using Google or a different search engine, type in something as basic as "allergies" and see what pops up. You'll see a list of questions "people also ask" toward the top of the search results …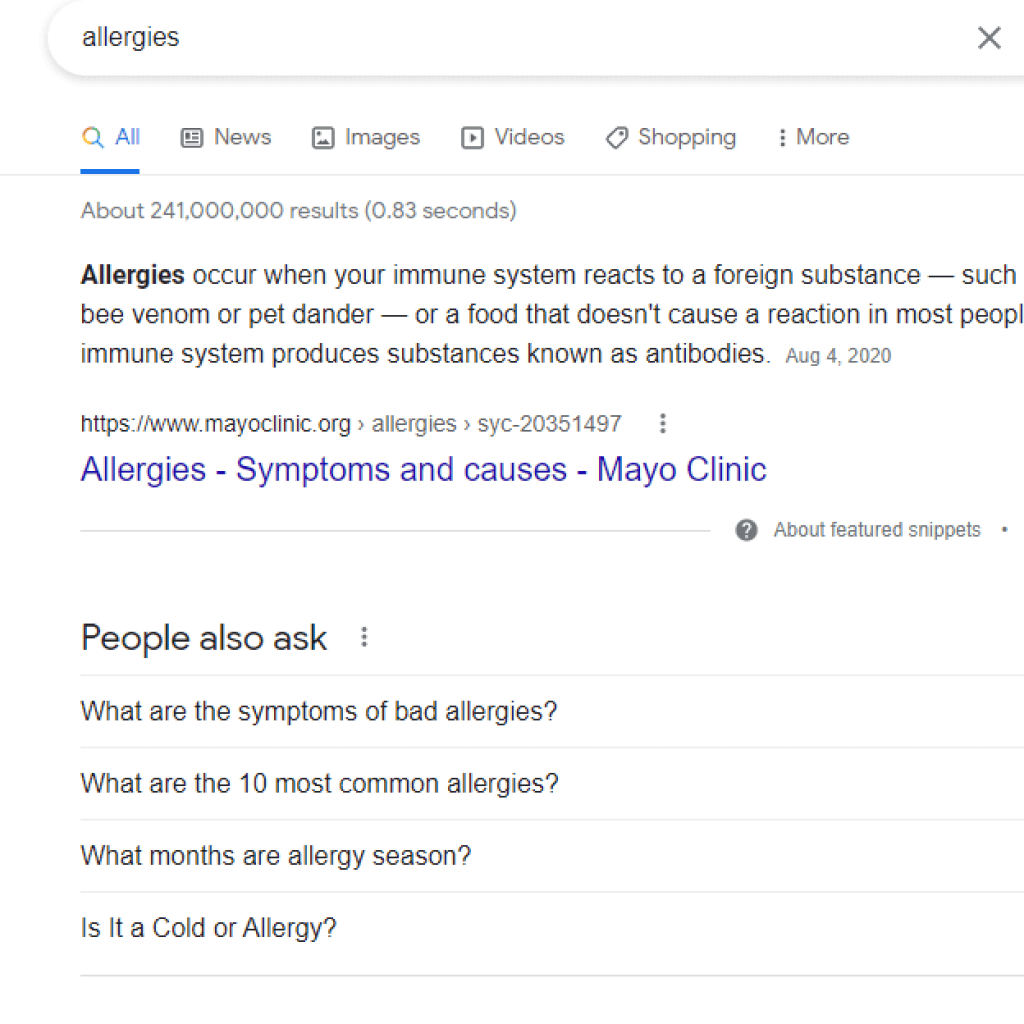 as well as "related searches" toward the bottom of the page.
These are helpful suggested keywords and keyphrases to focus on in your content.
5. Educate Yourself on Inbound Marketing
Utilizing the aforementioned four steps will position your HVAC company as the local expert on allergies–or whatever relevant topic you target. A small company can accomplish these steps. For those looking to expand their marketing team and efforts, there are high-level inbound marketing strategies on Hubspot. There, you will learn more about lead nurturing, customer journey and more.
Final Thoughts To Generate More HVAC Leads
It takes time, heart and brainpower to create a successful HVAC inbound marketing strategy. Therefore, you cannot simply throw money at content and cross your fingers hoping it works. Every HVAC article you create for homeowners and every social media post is critical to your strategy.