In order to make a building more environmentally sustainable, builders should prioritize the role of the HVAC system in green buildings. The HVAC system is easily one of the biggest consumers of energy in a structure, so it makes sense that upgrading or replacing an old inefficient system with a modern green model can result in major savings. Ideally, every building would have an efficient HVAC system installed. In this article, we'll discuss:
Top HVAC trends for green buildings
Why HVAC systems are a major element of green buildings
Case studies on green HVAC systems
How green-minded builders should think about HVAC
HVAC Trends for Green Buildings
The energy-efficient theme is evident in HVAC trends for sustainable buildings. Furthermore, in environmentally friendly structures, more sustainable HVAC systems, such as solar or wind power, are becoming increasingly popular. To keep HVAC equipment operating expenses low, utilize renewable resources. Here are several current HVAC trends that green builders should be aware of:
Mini-Split Systems
Mini-Split systems are HVAC systems with one or more small air-handling units mounted on the walls and separate piping linked to a centralized outdoor compressor unit. They are more space-efficient than traditional HVAC systems since they do not require big ducts or central HVAC equipment. Moreover, they are significantly more cost-effective than conventional HVAC systems. They do not require extra electric resistance heaters or chillers and can provide year-round heating and cooling. Mini-splits HVAC systems can provide heating, cooling, dehumidification, and ventilation in one system.
Variable Speed HVAC Systems
HVAC variable speed systems can vary their capacity based on need, which reduces energy costs during peak usage times. HVAC systems with integrated sensors and controls can also provide HVAC systems that can monitor and regulate HVAC system energy usage based on the needs of the building. As a result, HVAC variable speed systems reduce HVAC energy use by at least 10%.
Heat Recovery Ventilation
Operational + embodied cumulative 60 yr carbon emissions for small school building on re-used slab with:
Green line: window ventilation only, oil filled radiators
Blue line: heat-recovery ventilation (big unit) + 120m of 250mm duct, 10kW heat pump
Blue line = 114 tonnes CO2e less pic.twitter.com/lVPLbkrdy6

— John Butler (@the_woodlouse) December 13, 2021
HRV's provide heat recovery by transferring both the sensible heat and the latent heat between two airstreams. Using a device known as an air-to-air heat exchanger to transfer these properties from one airstream to another, allows for increased energy efficiency.
Thermal-Driven Air Conditioning
HVAC thermal-driven air conditioning HVAC systems save 20 – 25% on electricity consumption compared to conventional HVAC systems. HVAC thermal-driven air conditioning systems use a heat pump to cool the building in the summer and warm it in the winter. They are able to recover heat from HVAC exhaust air and transfer it to HVAC supply air. HVAC thermal-driven air conditioning HVAC systems are able to provide both heating and cooling using a single piece of equipment, making them more efficient than HVAC systems that use multiple HVAC appliances.
Ice-Powered Air Conditioning
These HVAC systems use ice to provide cooling and do not require any electricity. Ice-powered HVAC systems run on a refrigeration cycle. Without using any electricity, the water is evaporated, heat is removed, and cold air is created.
Recycled Quiet Duct Wrap
Quiet HVAC duct wrap HVAC insulation can be made from landfill materials: air filters, old jeans, and used dryer sheets. It is engineered to reduce noise levels and create a healthier indoor environment. Low maintenance, low VOCs, and no irritants.
Geothermal Heat Pumps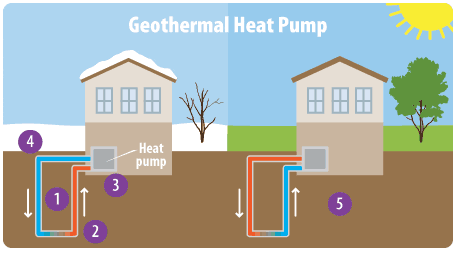 Geothermal systems are able to provide sustainable heating and cooling. They do this by using HVAC ground loops that tap into underground temperatures, which provides a constant reference for air temperature control. Geothermal HVAC systems can also provide both heating and cooling with one piece of equipment. They provide all base building heat and are designed to withstand extreme outdoor conditions.
Builder Benefits to White House's New Clean Air Buildings Challenge: The White House's callout has set off quite the sensation among those in construction-related industries, with many ready participants eager at jumping on board. Learn more ➡
HVAC Systems are a Major Element of Green Buildings
Green building codes are establishing stricter requirements for HVAC system performance. They are a major element of green buildings. The reason they play a significant role in green buildings is that they control:
temperature
humidity
air quality
When HVAC systems are designed to conserve energy while maintaining optimal comfort, they have a positive impact on the environment. Systems that do not use natural resources or rely heavily on fossil fuels will have a negative environmental impact.
The right HVAC system in green buildings can contribute to significantly reducing energy consumption. They not only serve the comfort needs of people but also play an important role in air quality. HVAC equipment and supply options should also be chosen to help achieve energy efficiency.
Green Building HVAC System Case Studies
There are many green buildings to choose from, but we'll keep it simple with our two favorites.
Bullitt Center
Considered by many to be among the greenest buildings in the world, the Bullitt Center in Seattle was constructed with Thermafiber® RainBarrier® 45 Continuous Insulation to help the structure meet its ambitious sustainability goals. ♻️#AEC #greenbuilding

— OwensCorningInsulate (@OCInsulation) August 5, 2020
A good example of an HVAC system in green buildings is the one used in the 52,000 square foot Bullitt Center in Seattle. It is one of the most energy-efficient commercial buildings in the world and the leading example of what's possible right now. The HVAC system in this building is designed to minimize energy use while providing occupant comfort.
It features radiant heating, solar panels, building neurology, heat pump, heat recovery ventilation, as well as smart windows and shades. You can learn more here.
The Edge
Deloitte's commitment to sustainability shows even throughout our office spaces, demonstrating ways in which work and workforces are changing. The Edge in Amsterdam is the greenest building in the world. Learn more: https://t.co/xchgNOiFhZ pic.twitter.com/j9XcQWMrlT

— Deloitte (@Deloitte) August 25, 2020
In Amsterdam, there's a 40,000 square meter commercial green building called The Edge.
It features a glass facade that benefits from the power of sunlight. For example, the south side is equipped with super-efficient solar panels. As a result, heat isn't retained inside and radiation absorbed during summertime hours can easily escape. The result is more than enough energy for the heating and cooling systems, which are also sustainable.
It sources the energy it needs from groundwater sources that are located 130 meters down using two separate aquifer thermal energy storage pumps. One is for cold water and one is for warm water. Depending on the inside and outdoor climate, it pumps one source of said water to heat or cool the building. Lastly, it features an HRV. You can learn more about this building here.
How Green-minded Builders Should Think About HVAC
Green-minded builders should think about the design of the HVAC system, the building's orientation, the sun, and the size of the windows. When it comes to designing a sustainable HVAC system, they must consider ventilation strategies such as natural ventilation and daylight harvesting.
As with any new build, adding utility spaces is a good idea. Utility rooms make more efficient use of your available floor space.
It's critical to know that if you use a sustainable HVAC system in green buildings, you'll increase the efficiency of your structure and cut utility bills. Solar HVAC systems are a must for buildings in hot environments because they require a lot of air conditioning.
Orienting a structure to take advantage of sunlight and solar power is most effective when they are facing south. According to the EPA, sunlight and prevailing winds can substantially decrease HVAC energy use. Don't block windows with landscaping, trees, structures, or equipment.
Prepare for 2023's New Efficiency Standards – Green builders can use HVAC solutions to meet the DOE's 2023 new energy efficiency standards through filtration and mechanical ventilation. Read our 2022 HVAC for Green Buildings to learn more ➡
Are You a Green Builder Looking for Sustainable HVAC Systems and Solutions?
One of the most important parts of developing a green building is its HVAC system. The latest trends in HVAC for green buildings should be on your radar if you are planning to build or renovate any structures. From solar heating and cooling to air-to-water heat pumps, there are lots of ways that builders can make their projects more sustainable while also saving money down the line. If you're a builder who cares about sustainability, contact us today! We'd love to help talk through some ideas on how you can best incorporate an HVAC system in green buildings.