There's a movement among forward-thinking residential real estate developers–improve the indoor air quality of their newest projects, with a focus on mechanical ventilation. Indoor air quality control is a multifaceted approach to ensure people breathe cleaner air indoors. It incorporates air purification, filtration, humidity control and mechanical ventilation–which is today's focus.
Terms like fresh airflow and energy recovery ventilation are the new buzzwords, incorporated into new construction marketing materials.
Airborne "AEROSOLS ARE THE DOMINANT EXPOSURE PATHWAY" for #SARSCoV2, says leading scientist @kprather88 who warned Dr Fauci that the coronavirus is airborne—Dr Prather made sure Fauci pushed airborne warnings.

➡️ Masks & Ventilation & Filtration most key! pic.twitter.com/dUUjHriWge https://t.co/zKRX58dw1b

— Eric Feigl-Ding (@DrEricDing) December 6, 2020
Many developers expect air quality products, like mechanical ventilation, as a standard for new buildings by 2030. Others expect new laws that ensure every building incorporates better air quality systems. The first hurdle in making these air quality systems a necessary commodity is to ensure they are energy efficient and available at a lower price-point. 
Andrea Mancino, executive vice president of New York for Bright Power, told the Wall Street Journal she believes it will happen. "The most cutting edge technology today, which will gradually become less expensive and more widespread, is an energy recovery ventilator," said Mancino.
Real Estate Developers–Early Adopters
Charlotte of The Upper West Side, a boutique condominium building in Manhattan and currently under construction, is focused on sustainability and air quality. The building is airtight, like most new construction projects. The difference at Charlotte is their decision to incorporate top-of-the-line air quality technology.
Forward-thinking real estate developer John Roe spared no expense for air quality. He ensures his buyers know just how special their indoor air is. Their marketing goes to great lengths to explain how his building air systems work. According to their website, residents can activate their energy recovery ventilation system with a simple button on their smartphone. A system they say boosts and improves fresh airflow for their entire home by 120%.
Superior air quality technology is now being incorporated into many multi-million dollar homes. While it is currently considered a luxury, it's only a matter of time before IAQ technology becomes a commodity.
Growing IAQ Market
The indoor air quality market is expected to boom over the next years. On average, 15% of U.S. households have air quality solutions in their home. That number is expected to jump dramatically.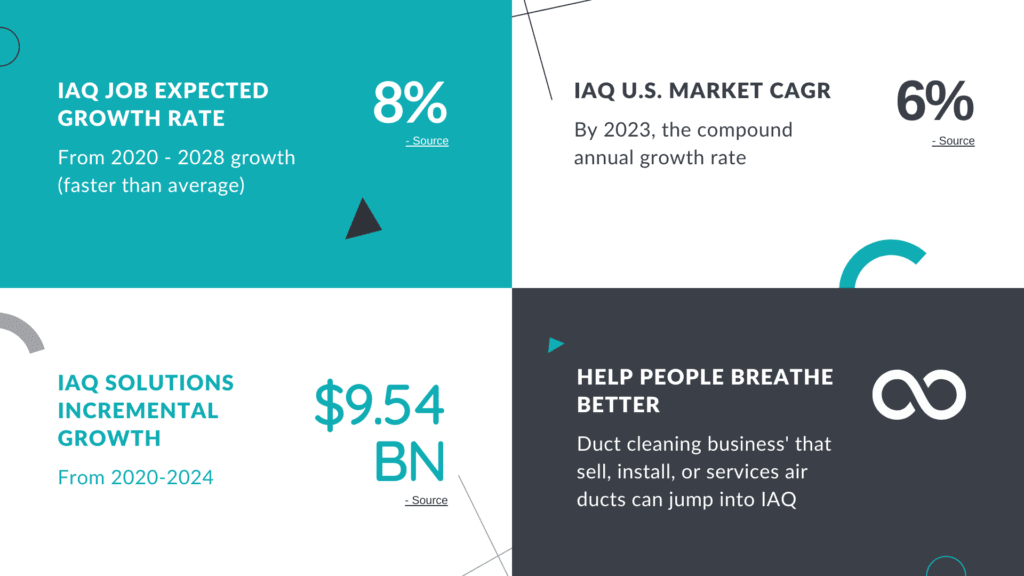 The Bureau of Labor Statistics is expecting an 8% faster than average job expected growth rate from 2020-2028.
The indoor air quality solutions market size is expected to grow by USD $9.54 billion from 2020-2024. The market's growth momentum will accelerate during the forecast period.
IAQ Support, Resources, and Training
If you're an HVAC contractor, plumber, duct cleaner, or solar panel installer – now is the time to get involved in indoor air quality. Our team can help you get started in IAQ.