Facebook Ads are a great way to find new HVAC clients. Using Facebook ads, you can easily target people who live in your area and need HVAC repair or replacement services. These ads are much more effective than HVAC flyers or HVAC postcards because they are so easy for people to find while they are scrolling through their feed. If you have an HVAC company, you need to start creating effective ads on Facebook for your HVAC business. In this article, we'll show you how to set up your business account if you don't already have one and tell you the best research tips for effective ad creation. We'll also talk about why ads fail, shine a bright light on the advantages of Facebook's Ad Library, and if you should hire an expert to create your ads or DIY.
Setting Up Your Facebook Business Account
First things first, do you have a Facebook account for your HVAC business? You need one in order to create HVAC Facebook ads. This is where you will post your HVAC ads, and it's also where most of your HVAC-related posts will show up. To create your HVAC Business account, follow these steps:
Log into your personal Facebook.
Select the Menu in the top right corner. It'll be the 9 dots to the right of your personal profile.
Go to "Create a Page" on the dropdown menu.
Enter your HVAC company name for the Page Name, Catergory and Description. Click Create Page.
Fill every field out entirely. Create the images in the right sizes, contact info, About Us, everything. Take the extra time to make sure everything is perfect.
Start posting content often. Add HVAC-related content for your audience. This can include HVAC videos, HVAC news articles, HVAC quotes/memes, HVAC images, HVAC tips, HVAC deals, etc.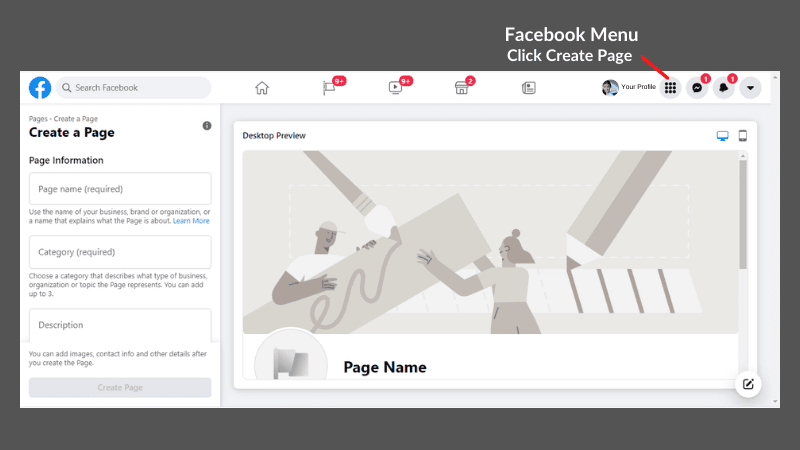 How to Start Running Facebook Ads for My HVAC Business
Advertising on Facebook is important for HVAC professionals since it's an easily accessible platform that provides HVAC businesses the ability to reach a wider audience. Facebook Ads are also great for HVAC businesses because they are often presented in a single image with all the information about the HVAC services being presented. If you'd like to take a shot at doing your own marketing, you can run your own ads.
Here are 5 things you should consider before spending money on ads:
1) Brainstorm what HVAC Services / Products You Want to Promote
2) Find Your Target Audience
3) Create Single Image with HVAC Services Info
4) Establish Budget and Length of Ad Campaign
5) Determine and Create Landing Page(s) for Each Service
Why Do Facebook Ads Fail?
Ads fail because the people creating the ads don't exactly know what they're doing. HVAC business owners clearly understand the trade, but likely don't understand how digital marketing works. On top of that, if you're not already familiar with it, Facebook's ad user interface is difficult to work with. It's not impossible, but there is a gap between those that do well and everyone else.
Secondly, ads fail because something is clearly not working. It takes a certain level of thoughtfulness, patience, and testing to determine what it is. It could be the target audience, the caption, the image, or the landing page they are sent to learn more. Understanding how to interpret the customer's journey and where they fall off will show you what needs to be improved.
Tips to Create Effective Ads for Your HVAC Company
It doesn't matter what type of business you're running, whether it's HVAC or not. If you're trying to promote your HVAC business on Facebook, here are some pointers to keep in mind.
There is no one-size-fits-all ad for Facebook audiences. If you are a residential HVAC contractor, your target audience is homeowners. And while that's correct, what else are they going through that may need your HVAC services? Here are some life events that may require your services:
Parents of a child who has asthma
Just started a new work from home job
Adopted a new pet
Found out they have a respiratory disease
Recently purchased a very old home
Here is a good example of what we mean. You can use the same message in the ad copy, but the image will be swapped out for the person you are targeting.
Take one of the services you provide and create a series of ads to connect with their needs. This is how your ads get in front of the right people at the right time.
Another thing to point out is to make your images native to where the Facebook ad is being placed. This ensures you are taking advantage of the space you have to create your ad. Horizontal-shaped ads are perfect for Facebook feeds, while vertical ads are the ideal size for Facebook stories. Here's an example of what each one should look like: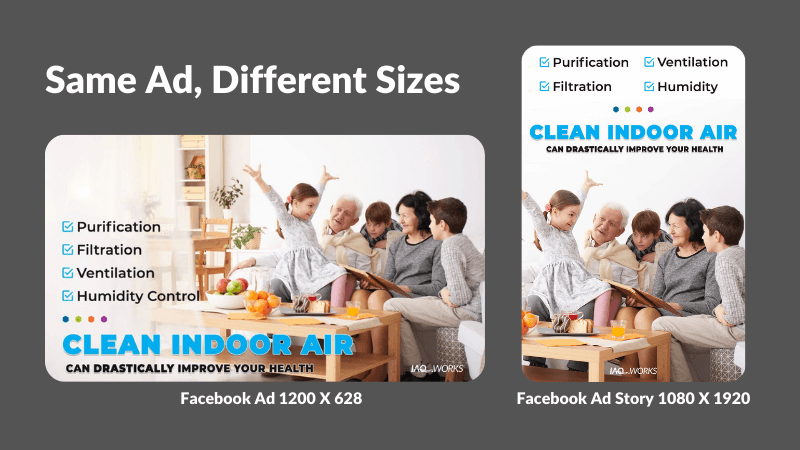 What is Facebook Ad Library and How it Helps Create Better HVAC Ads?
The Facebook Ad Library was initially designed to create transparency in the ad marketplace. But for a marketer, it's your competitor's research and marketing inspiration tool. It provides you with access to ads from across all of Facebook's products, even Instagram. The platform is totally free and open for anyone who wants a peek behind the scenes at what makes their competitor's ads tick!
Spy on Your Competitors
Through Facebook's ad library, you can see what ads competitors are running right now and the past 90 days. You can view what they have created for each platform, how many impressions each ad received, and see exactly how they are engaging their audience.
The advantages of spying on how many campaigns your competitor is running, where they are marketing, and how big their ad campaign is, are invaluable. This will give an idea of what they are focusing their ad dollars on and give you an opportunity to focus on different services or compete against them.
Inspiration to Create Better HVAC Facebook Ads
Every marketer knows that ads are tied directly to funnels. From the ad, you can see where their links take you to, be it a landing page or product page. This alone can give you an idea of what your landing pages or service pages should look like. You'll also see an array of images, videos, captions, and more that will give you ideas on what to create to promote your services. When done correctly, you'll create ads that are relevant and high-impact. It's a great starting point for any marketer. You can check it out here.
Should I Hire an Expert to Create my Ads?
It entirely depends on you. If you are willing and able to put in the time to master social media marketing and paid ads, doing it yourself is always awesome. If you would rather spend your time on your business and trade, hiring a digital marketing expert with HVAC business experience will ensure your Facebook ad dollars are well spent right out the gate.
Most HVAC companies don't have a social media ad strategy or they don't understand the importance of having one. The lack of having an effective Facebook ad campaign is costing your company money and losing your business customers. At KGG, we've been helping HVAC businesses grow their online presence for years with our proven social media marketing services.
We offer affordable social media marketing services that will help you reach more potential customers on Facebook by creating custom ads designed to attract new leads. If you're ready to start getting more leads from Facebook, contact us today.
Facebook Ads for HVAC Frequently Asked Questions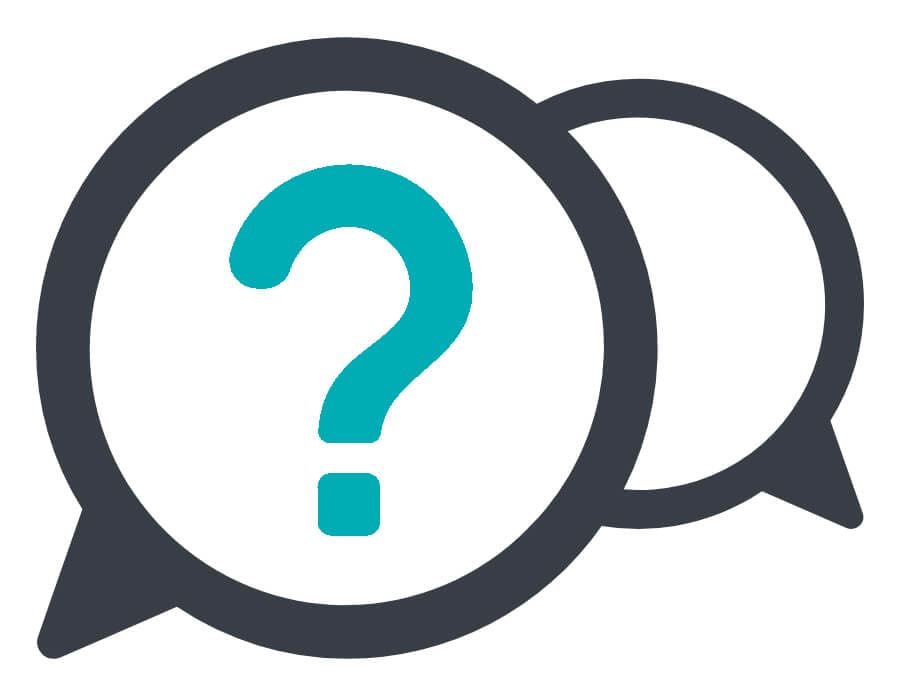 Are Facebook ads worth it?
They are if you know what you're doing. An ad will get you in front of a person you chose to target, but the ad needs to resonate with them and make them click. Once they click your link, are you taking them to your homepage to figure out what to do next, or a landing page that gives them clear next steps? Ads are targeted messages with the potential to generate business for your HVAC company, so it's worth investing some time and energy into getting them right. If you do that, Facebook ads are worth it.
Does Facebook advertising work for HVAC?
If you properly target the right local audience and create great ads, Facebook ads will absolutely work to bring your HVAC company's site traffic, clicks, and leads.
How much should my business spend on Facebook ads per day?
It all depends on your budget. The best practice is to start small to test and see what ad campaigns are working for you, then double down on those. For ads that aren't working, adjust and test them again. Once you have optimized your Facebook ads when you're ready for more business. But to give you a ballpark number, if you're not ready to spend $900 per month, you're probably not ready to start running Facebook ads.