Marketing, training, and leads are essential for any HVAC contractor looking to expand their business. Marketing is how you stay relevant and top-of-mind in your local community. Training and learning new services that are in demand, like indoor air quality, is equally important to your company's success. And leads are what help keep the lights on. If you've taken the time to learn and align your business with IAQ manufacturers, then this article is for you. Here are some proven marketing strategies for better HVAC contractor IAQ leads.
Use Social Media to Turn Your Community Into Active HVAC Leads
Think about your community and the IAQ nuances they face, and address them on your business social media channels. This will look different depending on your local area.
Is wildfire season a serious air quality threat?
Does colder weather bring with it heating and moisture challenges throughout winter?
What are you personally experiencing in your home right now?
Addressing such concerns allows you to relate to customers and potential clients on social media.
"HVAC contractors need to bring their social media audience value first and foremost," said Chris Grubbs, Marketing Manager for KGG Consulting. "Educating your customers in lieu of selling them on your solutions and services is a great starting point."
Using a combination of videos and images to show before and after projects you've done is a great starting point. And make sure to address your community's IAQ pain points and the solutions you provide to mitigate high humidity, pollutants, spring allergies, etc. Over time, you'll become the go-to expert in your field and when they need you, you'll be top-of-mind. Social media marketing requires patience, persistence, and testing to understand what works.
Customer Engagement is the Key to Better Social Media Marketing: Social media marketing is all about building a connection with your customers. It's important that you engage them so they will come back and tell others what great service or product YOU provide! Learn the best practices for engaging customers on social networks ➡
Use Google Services for Quality HVAC Contractor IAQ Leads
Are you looking for a more effective way to generate leads?
Google My Business and Local Service Ads are the perfect tools for HVAC contractors. They allow you to access the most qualified leads, without spending a fortune on marketing.
Generating leads is essential for any business, but it can be difficult to find quality leads that are worth your time and money. With Google My Business and Local Service Ads, you can stop wasting your resources and instead, focus on generating more business from qualified prospects.
It's arguably the most effective way to generate leads on a modest budget.  
The first step is to fill out the free business profile. Make sure to personalize it with images, services offered, posts on business specials, and the like. Then, you can respond to reviews, send and receive messages and take charge of your online presence all within Google My Business. Furthermore, use the Local Service Ads to help your business stand out when it matters most. 
Enhance your HVAC local business marketing efforts: Google is the number one search engine, so you'll want to make sure that when people are looking for services in your area they find your business first. Getting started with local HVAC marketing on GMB ➡
Boost Your HVAC Business with Free Leads from IAQLeads.com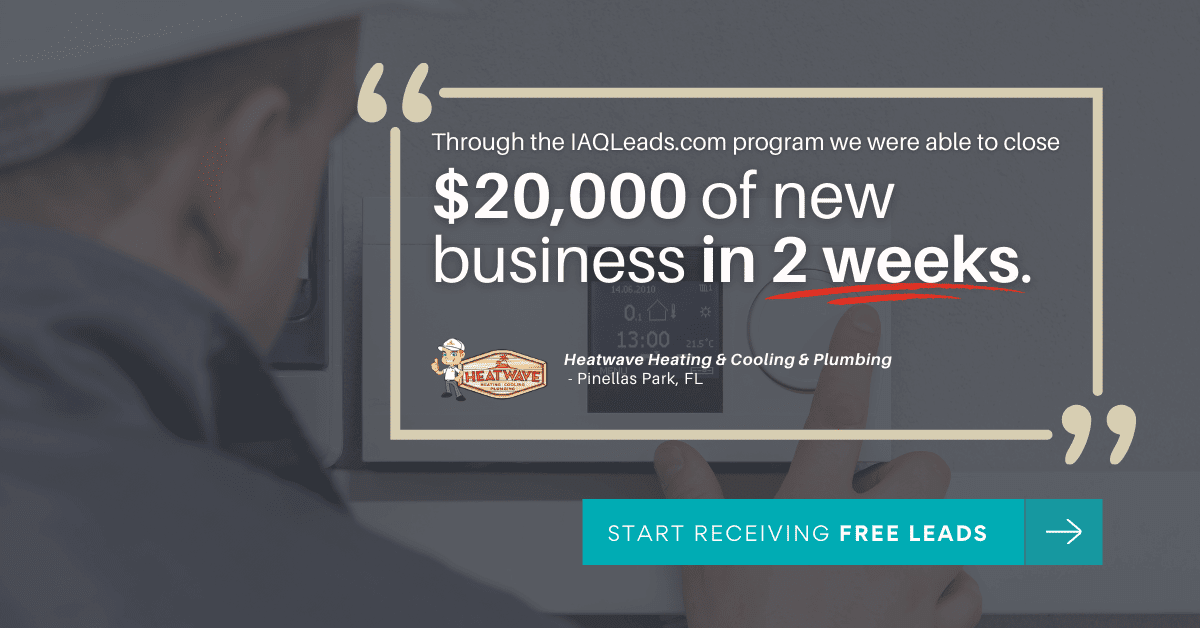 You're an HVAC contractor who specializes in IAQ products and services or maybe you've been in business a long time but just recently added IAQ services, either way, finding targeted leads for your HVAC business can be tough. You may spend a lot of time and money on marketing only to find that the leads don't quite fit.
It's tough to find good leads, especially if you're not targeting the right audience. And even if you are targeting the right people, it can be hard to get your message in front of them.
IAQLeads.com is a free service that distributes high-quality IAQ leads to qualified contractors across the nation. We run smart content distribution campaigns that attract your target audience and help you close more deals.
"Our ultimate goal for IAQLeads.com is to promote the growth of the IAQ industry," said Grubbs. "It's truly a win-win scenario for you and us."
Simply fill out a basic form about your business to get started. A local KGG rep will review your information, research your business, and set up a time to talk with you about the qualification process. Learn more about IAQLeads.com or to find out if your business qualifies ➡