Marketing, training and leads are essential for any HVAC contractor looking to expand their business. Marketing is how you stay relevant and top-of-mind in your local community. Training and learning new services that are in demand, like indoor air quality, is equally important to your company's success. And leads are what help keep the lights on. If you've taken the time to learn and align your business with IAQ manufacturers, then this article is for you. Here are some proven marketing strategies for better HVAC contractor IAQ leads.
Use Social Media to Focus on Your Community's IAQ Pain Points
Think about your community and the IAQ nuances they face, and address them on your business social media channels. This will look different depending on your local area. Is wildfire season a serious air quality threat? Or maybe colder weather brings with it heating and moisture challenges throughout winter. Addressing such concerns allows you to relate to customers and potential clients on social media.
"HVAC contractors need to bring their social media audience value first and foremost," said Chris Grubbs, Marketing Manager for KGG Consulting. "Educating your customers in lieu of selling them on your solutions and services is a great starting point."
Using a combination of videos and images to show before and after projects you've done is a great starting point. And make sure to address your community's IAQ pain points and the solutions you provide to mitigate high humidity, pollutants, spring allergies, etc. Over time, you'll become the go-to expert in your field and when they need you, you'll be top-of-mind. Social media marketing requires patience, persistence and testing to understand what works.
Use Google Services for Quality HVAC Contractor IAQ Leads
Google offers a plethora of local marketing tools contractors should take advantage of. Google My Business and Google Local Service Ads are the best way to access the most qualified leads. It's arguably the most effective way to generate leads on a modest budget.  
The first step is to fill out the free business profile. Make sure to personalize it with images, services offered, posts on business specials and the like. Then, you can respond to reviews, send and receive messages and take charge of your online presence all within Google My Business. Furthermore, use the Local Service Ads to help your business stand out when it matters most. We talk about this smart pay-per-lead service in greater detail here.  
Qualify Your HVAC Business for IAQLeads.com
IAQ Leads is a free service that contractors specializing in IAQ products and services can sign up for. It generates high-quality IAQ leads for HVAC contractors and businesses. IAQLeads.com runs smart digital ads and content to attract your target audience across the nation.  
"Our ultimate goal for IAQLeads.com is to promote the growth of the IAQ industry," said Grubbs. "It's truly a win-win scenario for you and us."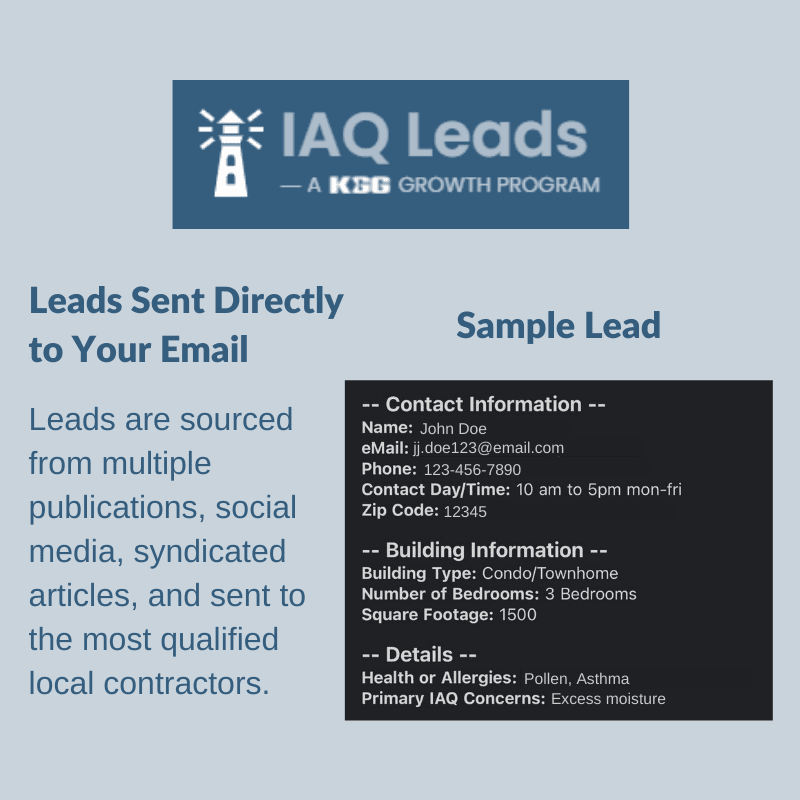 Interested customers simply fill out a form to explain which services they're interested in and provide contact information. On top of that information, the lead also includes what site page they were on when the lead was generated and details about their home or indoor space. To learn more about IAQLeads.com or to find out if your business qualifies, click here.