Globally, social media users average roughly 145 plus minutes each day on various platforms. With so much content being produced by the second, it's key that HVAC and IAQ businesses capture some of that attention. For an HVAC company, it may be difficult to produce social media content that: 1. Doesn't suck and 2. Grabs people's attention as they scroll through their feeds. This is why memes for HVAC marketing should be a critical aspect of your social media strategy.
When used correctly, memes significantly benefit your HVAC and/or IAQ business. They are excellent attention-grabbers while also educating your audience about IAQ and differentiating your business from competitors. We'll dive into what memes are, the best practices and where to find them.
A Brief History of Memes
Memes were first introduced as a concept in 1976, by British evolutionary biologist Richard Dawkins in his book, "The Selfish Gene." They are defined as a unit of cultural information spread by imitation. The advent of the internet and social media platforms created internet memes. They are an idea, behavior or style that is spread online, often via social media platforms or website content.
Memes often take a popular image, GIF or short video and add a text overlay. There is no single format to create memes or rules to follow. They've become an important piece of social media culture and have great potential to go viral.
How HVAC and IAQ Companies Should Use Memes in Marketing
Memes should be part of your business' social media marketing strategy. It also shouldn't be all you post. While your social audience loves meme content, using memes endlessly for every social post can hurt your business. People may instead view your page as a source of funny content rather than as professionals. You won't be the HVAC or IAQ expert they choose when in need of a home repair, assessment or replacement.
If you're posting daily on your HVAC social media channels, here is a helpful breakdown:
1-2 HVAC focused memes
1-3 educational content pieces with links to articles or pages on your site
1-2 sales promotions
1-2 links to external content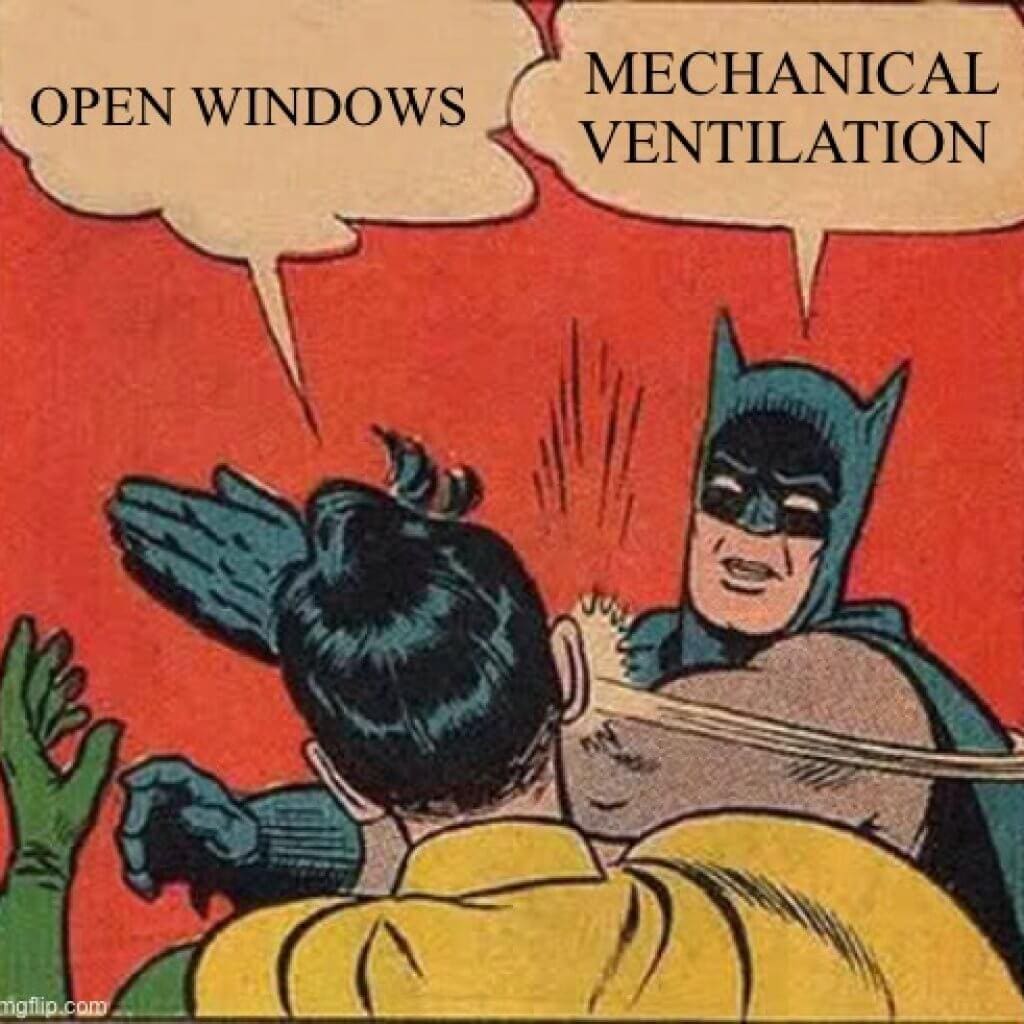 One other best practice for using memes is to not force them. If what you create doesn't feel right or it's lacking in some way, don't post it. Take a thoughtful approach, and only publish memes that feel natural to your company, culture and personality. Ideally, memes should be quickly-consumed content that incorporates sarcastic or comedic tones.
Benefits of HVAC Memes in Marketing
When you create memes focused on your region, climate, air quality issues or local news–you win. That's because you are connecting with the local audience. This comes with many added benefits, including:
Personifying your business
Educating potential customers with helpful content
Displaying your company culture
A higher engagement rate
The idea behind using memes is primarily to capture your desired audience's attention. When they visit your social media pages or website, customers learn more about your company and what you do. Then, when a homeowner needs HVAC system help or they want to improve their IAQ, they'll reach out to you.
Best Meme Marketing Resources for HVAC Companies
Ready to incorporate memes into your social media marketing strategy, but unsure how or where to get started? There are a few ways to go about creating memes for HVAC marketing!
HVACContent.com – Lots of fresh, free content for HVAC companies to pull from on this site. Social posts and memes are curated for HVAC and IAQ contractors, distributors and sales reps to share with their audience.
IMGFlip.com – Tons of editable memes and GIFs to choose from. You can also view what's popular and what others have created.
DIY – Simply use your own pictures, add a text overlay and test the content!