LinkedIn HVAC lead generation is simply great. With over 740 million users, most of whom are business professionals, it's not hard to believe.
Compared to other social media platforms, LinkedIn members are far more likely to be in the market for an HVAC contractor just like you. This platform facilitates connections between people who might not otherwise have been connected. It has many features make it extremely easy to find and communicate with potential leads. In this article, you'll learn:
How you can use LinkedIn as a resource for finding potential customers interested in your services
That your profile can help generate leads
Exact steps to take after connecting with someone on LinkedIn so they don't forget about you or, worse yet – ghost you!
What are the Benefits of Using LinkedIn as a Lead Generator?
When you take a step back and compare LinkedIn to other social platforms, it's a gold mine for quality residential contractor leads.
LinkedIn HVAC lead generation is unique in that you are far less likely to come across fake profiles. You have access to information like their names, titles, companies they work for, and what city they live in.
Additionally, you can view their activity and posts, providing insights on what's going on in their lives and what's important to them.
Other key benefits include:
LinkedIn is a legitimized and normalized social media network. It can be integrated into other marketing strategies, especially your content strategy. For example, the blog post you created can be shared on LinkedIn, which can drive people to visit your site to fill out a lead form.
Leads from LinkedIn tend to be much more qualified than leads from Facebook or Twitter. Think about that for a second. You have real business professionals in a region you service. Maybe they have recently transitioned to WFH, or their kids are being home-schooled. Spending more time at home has forced them to rethink how comfortable or energy efficient their home is. Or maybe they're concerned about improving their IAQ. You can meet them on LinkedIn with a message or through sharing content.
We Interrupt This Article to Bring You Value: Stop Chasing IAQ leads – Instead, we'll send them directly to you, FOR FREE – Learn more about our IAQ leads program →
Where to Find Potential Leads on LinkedIn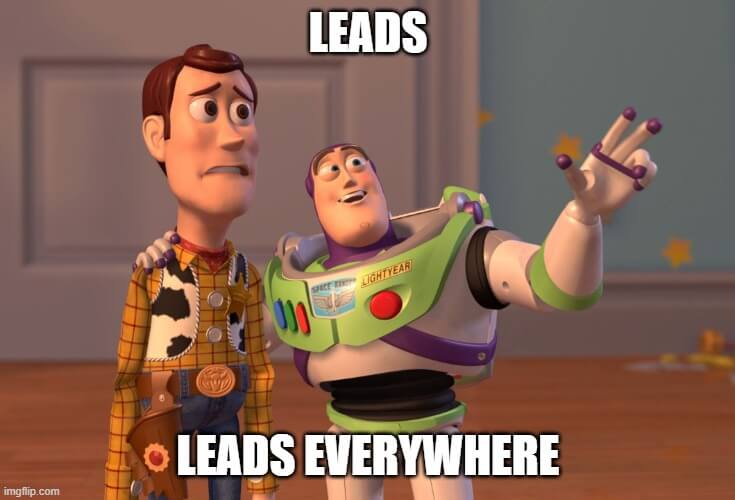 "Where can't you find potential leads on LinkedIn" should be the question! Leads can be found on LinkedIn by searching for people who fit your target demographic. For example, let's say your residential HVAC company services Dallas, Texas. You learned that company XYZ in Dallas announced it has shifted its entire workforce to a permanent WFH. You can visit XYZ's LinkedIn page and find their people to connect with.
Then we have LinkedIn search, which can also provide ample opportunities to connect with potential HVAC leads. Using the same work-from-home example, you can find groups and people in your local community to connect with.
A quick note on LinkedIn groups:
You'll have to dig to find the right groups to join. Before joining one, consider the angle you want to take to share your expertise or content in the group. Make sure you're bringing value to the conversations, and not just trying to sell. Always bring value first. If you're successful, you'll make connections with people from all over the world. The beauty of connections is that you never know who they know. Welcome these connections! Even though they won't be your customer, their best friend/brother/etc who lives in your area might be.
How to Create an Effective LinkedIn Profile for Residential HVAC Contractors
Create an interesting and informative LinkedIn headline with links to your website, blog, or LinkedIn profile page. Mention the type of work that you do in the LinkedIn summary section under your headline. LinkedIn offers the option of including a custom LinkedIn URL for a more professional look.
Include some "Additions" on LinkedIn which will provide more information about you and your business. Additions include a company overview, a list of some services or offerings you offer, and some notable projects or awards won.
Be active: Include pictures of yourself at work, on the job site, at work-related events, or at presentations on LinkedIn. This will provide more exposure to LinkedIn users who view your profile.
The Importance of Following up After Connecting With Someone via Social Media Networks like LinkedIn
While LinkedIn is a great way to generate leads, if you're not following up with them and doing it properly, it will not do you much good.
Not sure what to do once you make a connection? Send them a message. Unsure of what to say in your message? Keep it short but customize the message on how you connected with them. Specifically, look at what sparked the connection: It could be a mutual group, interest, or because they happen to live in the local community you serve.
All Too Common HVAC Business Mistakes Contractors Make and How to Fix Them: Success as an HVAC contractor depends on your ability to overcome and avoid common HVAC business mistakes. Learn how to fix the top five problems →
The trick for the initial message is to keep it simple: learn more about them and get them talking. For example, let's say this is a new connection from someone in your service area. Start with something along the lines of this (of course, personalize it):
Thank them for connecting
Ask them how they enjoy living in your shared community
Recommend a local restaurant/coffee shop/bakery
Ask if they are working from home or back in the office, and how that's going for them
This works so well because it's different. By different, I mean not "salesy."
If they respond, great! In their reply, they mention their position at XYZ company has shifted to permanent WFH. Of course, first, reply to any questions they had for you. Towards the end of the message, tie the conversation back to the WFH response.
The reason? You just so happen to have an article/page on your website that speaks on the transition to WFH and the HVAC or IAQ issues homeowners like them might not be aware of. The article or page also has a call to action to set up an air sample test or HVAC assessment with you.
If they don't respond, that's okay! Continue to message them periodically. Slightly change your approach each time, but always bring value with relevant, helpful tips and links to your content. You also stay relevant by being active on LinkedIn and showing up on their feed.
Ready to Start Your LinkedIn HVAC Lead Generation Strategy?
You should be! You've learned where to find potential leads on LinkedIn. And you now understand the importance of creating an effective profile and following up with your new connections are key to LinkedIn HVAC lead generation. But, don't stop there! Keep learning about other ways you can generate HVAC leads from the social media platform – Specifically, how you can use content marketing or advertising. Learn more about the benefits of a digital marketing strategy →