HVAC Facebook posts are a great way to grow your HVAC business. They provide you with an opportunity to connect with new and existing clients, share news about your company, offer HVAC expert tips, promote your new products and services, and so much more.
But what types of posts can you create? How often should you post? What makes for a good HVAC Facebook post? And where can you find inspiration for the best HVAC Facebook post ideas?
Here are some important tips that will help get your HVAC business growing on Facebook!
What Types of Facebook Posts can I Create?
There are seven different types of Facebook posts to choose from. The flexibility of this platform provides you with all the tools you need to grow your HVAC business.
It's up to you to create the content and share it using the best method possible. Let's talk about each type of Facebook post you can create and our pro tips to help you maximize their effectiveness.
Text Posts
When Facebook started in 2004, text posts were the only option. Today, they are rarely used, but can still be effective in specific instances. They are great for connecting with your audience, educating, starting conversations, and sharing information quickly. They're also very easy to create!
Pro-tip – You can enhance your text post by adding a colorful background to make it pop. Try testing plain text and the colored background to see what works best with your audience.
Suggested Reading: Beginners Guide for Creating Effective HVAC Facebook Ads – This article will give you the basics of what you need to know. Learn more about HVAC Facebook ads ➞
Image Posts
A popular way to connect with potential HVAC customers on Facebook is through image posts.
You can certainly add multiple images to one Facebook post, but it's best practice to stick to one image with engaging text per post.
Facebook doesn't offer the fancy scrolling option it does on Instagram, so image posts with multiple images look smaller, decreasing the likelihood of people stopping to look through them all.
On social media in general, it's important to make things simple to view and engage with.
Pro-tip – Optimize your image posts by creating images with the right dimensions. This ensures your whole image appears when people are scrolling through their feeds. The ideal size is 940 X 788 pixels. Credit the source if you're reposting someone else's image.
Video Posts
Video reigns supreme on Facebook. Videos are better than any other form of content for engaging audiences and promoting interaction. They also play automatically in users' news feeds which makes them an easy choice as your company's go-to promotional tool!
Pro-tip – To maximize these benefits you need to ensure the first three seconds are captivating. Optimize quality so viewers can watch without buffering (MP4 format, 1080P, file size needs to be less than 10GB, and less than 240 minutes long.) Lastly, upload videos to Facebook directly instead of adding a Youtube link.
Facebook encourages posting directly onto their site and rewards you by getting your video in front of more people and higher engagement.
Also, this is important – Most people will watch the videos without sound, so add subtitles to your videos.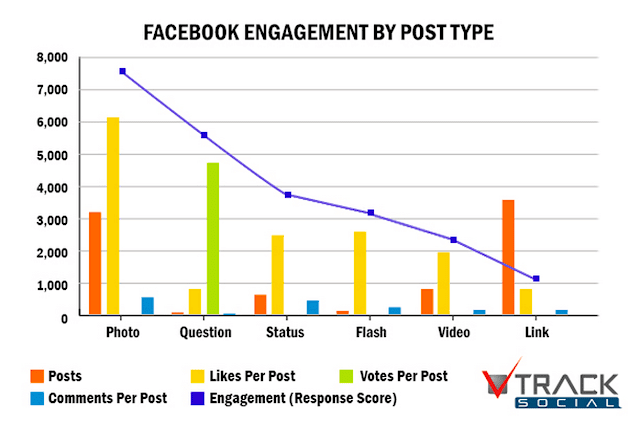 Link Posts
A link post is a straightforward way to share external links. Simply add the URL to the text box, and Facebook auto-populates the featured image and link to the website page.
Pro-tip – Once the image and link are auto-populated, you can remove the link in the body of the caption. Instead, use the caption to discuss the link you're sharing and why they should click it.
Story Posts
Facebook stories are the newest, most creative way to share content on Facebook. You can add photos and/or videos, and overlay them with captions and emojis. They expire 24 hours after being posted.
Pro-tip – the size of these images should be 1080 x 1920 pixels so utilize the space effectively. You can also add links to these posts to drive them back to any website page.
Pinned Posts
A Facebook-pinned post helps to ensure that any post, announcement, special deal, or whatever else, is pinned to the top of your Facebook business page feed.
Pro-tip – you can only pin one post at any time, so make sure it's relevant. If the pinned post isn't getting the results you want, change up the graphic or text.
Live Video
Facebook Live is a great tool for HVAC businesses to better connect with their customers. Users can interact with each other, increasing engagement within your brand's community. You can track your comments, reactions, and analytic metrics in real time.
Pro-tip – you'll need to download the mobile Facebook app to use it. You can record vertical or landscape video, so plan accordingly. Let your followers know in advance when you plan on going live by either creating an event or via post.
Show them how to set their notifications to "ALL" so they get pinged whenever you go live. You can also pay to boost your live stream to reach a larger, targeted audience.
How Often Should I Post on my HVAC Facebook Business Page?
The best answer is as often as possible. According to Hootsuite, HVAC companies should post HVAC Facebook updates and HVAC-related photos at least twice a week.
Some HVAC businesses post even more than this – one HVAC business posted once every weekday!
According to the study, HVAC companies that post five times or more a week reported the highest HVAC Facebook engagement and HVAC Facebook follower growth.
Your posts should be a mix of the seven types of posts we covered earlier. One easy way to double up your content output is to take your image or link post and turn that into a story.
If you write a blog, take a few lines of content from it to create a series of text and image posts. Recycling content like this makes it easier to post more often.
Digital Marketing Solutions with Real-World Results: Small and midsized businesses with limited resources can utilize the power of social media marketing for HVAC to achieve success. Let us show you how ➞
Ideas on How to Create a Great HVAC Facebook Post
A great HVAC Facebook post will always bring value to its audience. Every time you decide to create a post, make sure it's accomplishing at least one of these 3 things:
Establishing your business as the HVAC expert
Connecting your business to the community you serve
Educating your audience on the products and services you provide
HVAC companies should use Facebook posts to get their business in front of potential customers. Here are ten good HVAC Facebook post ideas you should be using right to grow your business:
Promote HVAC products and services
Share HVAC industry news that is of interest to your audience
HVAC tips
Post photos of recent HVAC projects completed
Advertise HVAC-related events
Announce new HVAC job openings
Thank customers for choosing your business
Share testimonials from happy customers who enjoyed their experience with your company
Show before and after pictures or videos
Share photos of your employees serving customers
These 10 HVAC Facebook post ideas are a great starting point.
Take one of these ideas and create seven different types of Facebook content pieces for it. For example: if you have an idea for a video on a specific HVAC tip, you can recycle the same idea into an image, text, pin, link, and story post.
If a post gets lots of engagement, use Facebook live to expand on the topic.
Where can I Find Inspiration for HVAC Facebook Posts?
The Internet is an amazing place. I recommend searching online for all inspiration you need. Knowing where to look is half the battle, so we'll keep it simple. A couple of resources for the best HVAC Facebook post ideas include:
Competitors – Look at what your competitors are creating and take note of their engagement. Do you see opportunities to create something better? Are they not using Facebook Live, linking to their site, or posting infrequently? Focus on creating content that differentiates your business and posts more often! Look for the best way to bring value to your audience, and you'll always win.
HVACContent.com – You'll find many HVAC-related social posts you can use right now. Memes, infographics, presentations, videos… it's all there for you to use. Best of all, it's free. Alternatively, you can put in a request for custom content.
HVAC Marketing Materials are a Great Investment for Your Business: What do your social media posts, printed materials, and business signage all have in common? They are all marketing materials, and how you make an impactful first impression. Learn more ➞
Now that you understand how to use Facebook's platform to grow your HVAC business, it's time to get to work. Recycling your content to fit all the different ways your audience prefers to consume it is the best way to increase your output. Whatever you choose to create, make sure you're bringing the most value to your audience.